Archive for
May, 2010
Good morning,
How was your weekend? Mine had some ups and some downs. Graham and I went to Omaha to hear Warren Buffet speak at the annual shareholder meeting. We had a great Friday driving to Omaha. We even stopped at a Theory outlet store. I nearly hyperventilated when I saw the outlet billboard on the freeway. I had no idea Theory outlet stores existed…only my favorite designer! After an in depth perusal, I walked away a happy customer with a new shirt dress.
I couldn't find a picture of it online, but this is close to what I purchased.
Theory 'Raineria – Bordeaux' Dress
The one I bought is light blue linen with a skinny brown belt and a slightly shorter hemline.
Anyway, once we made it to Omaha, we had an amazing French dinner at Le Voltaire. Life was good.
Then at about 10:00 PM, things began to change. Our non-smoking room smelt like an ashtray.  To add insult to injury, at about midnight the flu began to hit me. I'll spare you the details but lets just say I moved into the bathroom for the rest of the evening until dawn. Saturday morning at 6:45 am, without any sleep, we left to go see Warren Buffet speak. I was weak and exhausted but trying to tough everything out in honor of Warren and his determination. I sat through the first question and answer but soon ended up going from my stadium seat to the stadium bathroom (read NOT private). Finally, I gave up my toughness and walked to our car to pass out in the backseat. We had switched hotels due to the smell and it wasn't time to check in to the new hotel yet so my choice of sleeping places was a small, plastic stadium seat or the relatively spacious backseat of our Jetta.
After a couple hour snooze in the backseat, I had enough energy to go with Graham to Furniture Mart, which is 77 acres of any type of decor you can think of. A true lover of design can't let a silly flu get in the way, right? Buffet shareholders got a 30 – 50% discount on everything in the Furniture Mart! I had to go.  However, it was clear my sickness wasn't completely over with because I was most interested in sitting in the lazy boy recliners and not moving.
I did have the strength to purchase a $10 persimmon colored tray…

(There are some paint scratches so I plan on giving it a fresh coat of persimmon paint).
I would like to pair it with this…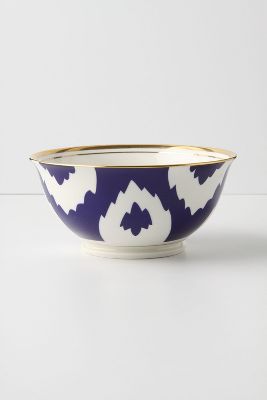 Ikat Bowl, Anthropologie
(Then I'll keep the tray on my bedside table, place the bowl on it for a spot to put my jewelry, add my table clock, framed picture and reading book to the tray.)
By Saturday evening, I had some strength back. Graham and I went out to dinner and four ginger ales and a plain pasta later, I was back. Sunday morning we went to Borsheims, a huge jewelery store. Shareholders were given a 30% discount on any item in the store. I tried on a 7 carrot ruby diamond, even with the $50,000 discount, we walked away sans ruby. It was a bit gaudy for my taste anyway. 🙂
After the jewelry store, we were back in the car and headed home.
We both fell in love with Omaha and even with the flu, we had a fantastic time. Plus, we got to sing the Counting Crows "Omaha" song non-stop. Good times!